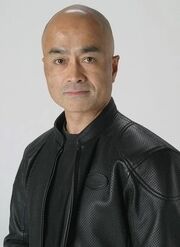 Hiroshi Iwasaki (born May 29th, 1953) is a Japanese voice actor who provided voices in Thomas and the Magic Railroad.
He is best known for as the official voiceover for Rowan Atkinson and C-3PO from "Star Wars". He is also known for voicing Grand Duke from "Disney's Cinderella", Speedy McAllister from "Chuggington", Uncle Ruckus from "The Boondocks", Maximus I.Q. from "Atomic Betty", Steven Magnet from "My Little Pony: Friendship is Magic", Strip "The King" Weathers from "Cars", and Mung Daal from "Chowder".
Voices
Trivia
Ad blocker interference detected!
Wikia is a free-to-use site that makes money from advertising. We have a modified experience for viewers using ad blockers

Wikia is not accessible if you've made further modifications. Remove the custom ad blocker rule(s) and the page will load as expected.