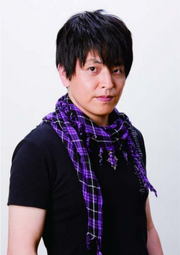 Hikaru Midorikawa (緑川光, born on May 2nd, 1968) is a Japanese voice actor who provided voices in the Japanese narration of Thomas & Friends.
He is best known for his roles as Softon in "Bobobo-bo Bo-bobo", the current voice for Tien Shinhan in "Dragon Ball", Zelgadis Greywords in "Slayers", and Marth from "Fire Emblem" and "Super Smash Bros."
Voices
Songs
Trivia
Ad blocker interference detected!
Wikia is a free-to-use site that makes money from advertising. We have a modified experience for viewers using ad blockers

Wikia is not accessible if you've made further modifications. Remove the custom ad blocker rule(s) and the page will load as expected.