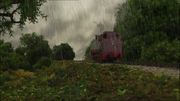 High Farm Junction is the junction that is located on the Ulfstead branch line which heads up to High Farm. The line splits into two tracks here, one is more easy but longer and the other is short and extremely dangerous, especially on rainy and stormy days.
It only appeared in the tenth season episode, Thomas and the Birthday Mail.
"Welcome to the Steamworks, my friend!"

This article is a stub. You can help by expanding it.