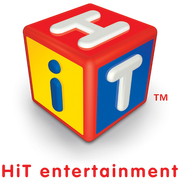 HiT Entertainment is the current owner of Thomas and Friends.
HiT was originally formed as Henson International Television (hit!) in 1983 as a branch of the Jim Henson Company in order to coordinate the co-production of Fraggle Rock in London. This subsidiary was later sold and retains none of the original Henson company architecture except for the name. It later re-branded itself as "HiT Entertainment".
They later purchased Gullane Entertainment in 2003 and have since produced the new series format of Thomas episodes and merchandise. HiT acquired the television rights for Thomas and Friends in 2002, during the airing of the sixth season and the filming of the seventh.
On 1 February 2012, it was announced that Mattel purchased HiT Entertainment from Apax Partners for $680 million.
Staff
Ian McCue produces the series for HiT, while Christopher Keenan acts as executive producer and Micaela Winter serves as line producer for the series.
Jocelyn Stevenson, Lenora Hume, Christopher Skala, Karen Barnes, Marion Edwards, Michael Carrington and Edward Catchpole formerly acted as executive producers.
Sharon Miller and Jo Jordan served as creative producers. The later also served as post-production producer for Hero of the Rails.
Denise Green served as line producer for Hero of the Rails, Misty Island Rescue, the thirteenth, fourteenth and fifteenth seasons.
Claire Waxler and Sam Barlow served as supervising producers.
Releases
UK VHS and DVD Releases
AUS VHS and DVD Releases
US VHS and DVD Releases
Double Feature
Gallery
UK VHS releases gallery

UK DVD releases gallery

Hit Favourites UK/AUS DVD Releases Gallery

UK DVD Boxsets

UK Blu-ray release gallery

AUS DVD/Blu-ray releases gallery

US VHS releases gallery

US DVD releases gallery

HiT Favorites DVD Releases

US DVD Boxsets

Double Features

US Blu-ray releases gallery
External link
Ad blocker interference detected!
Wikia is a free-to-use site that makes money from advertising. We have a modified experience for viewers using ad blockers

Wikia is not accessible if you've made further modifications. Remove the custom ad blocker rule(s) and the page will load as expected.