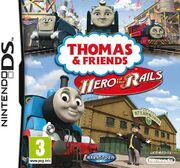 Hero of the Rails is a video game released on Nintendo DS and Wii in Europe and Oceania on August 20th, 2010. It is based on the special with the same name. It features eight activities including racing, welding, cleaning, fixing Hiro, painting, and shunting.
It contains a navigational voice-over to narrate the story and to guide you through the game and provides clips from the film.
It was developed by Silverball Studios and published by Barnstorm Games.
Wii version
Playable Characters
Other Characters
Locations
Levels
Spencer Arrives - Spencer arrives on Sodor and challenges Thomas to a race.
Thomas Helps Hiro - The player must place a cylinder on Hiro. After that Percy helps Thomas with his deliveries. Percy breaks down and Thomas takes him to the Steamworks where you must sort parts.
The Fat Controller - The player must race Percy to Hiro and put the new part on him. After that, the player must help Emily shunt trucks. Then the player plays a game of snap.
Spencer Looks for Clues - The player must paint Spencer and help him find clues. Then there's a game of memory. When Spencer finds James and Toby, the player uses James to chase Spencer away.
Last Part for Hiro - The player plays a game of snap. Then, the player helps Hiro to test himself by puffing around the Island. At this time, Spencer finds Thomas and Hiro. Luckily, Gordon puffs up and challenges Spencer to a race.
Spencer in Trouble - Thomas is chuffing to Hiro's siding and Spencer catches him. They then race to Knapford and Spencer falls into the mud.
Hiro Gets Fixed - Thomas must sort parts and repair Hiro. Then Hiro goes to rescue and clean Spencer.
Thomas Says Bye - Hiro has a last ride around Sodor and Thomas gets a new coat of paint before the party.
Trivia
Goofs
Links
Ad blocker interference detected!
Wikia is a free-to-use site that makes money from advertising. We have a modified experience for viewers using ad blockers

Wikia is not accessible if you've made further modifications. Remove the custom ad blocker rule(s) and the page will load as expected.