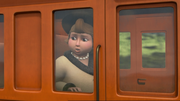 "Henry's Tunnel" is the nickname given to the tunnel on the Main Line near Ballahoo. It got its name after Henry was abandoned there in 1922, claiming he did not want the rain to spoil his "lovely green paint with red stripes".
In the Railway Series, Henry's Tunnel was originally single-bored until Henry was bricked up inside it and a second tunnel was bored alongside.
The tunnel collapsed in Thomas and his Friends, but was repaired in time for the unveiling of the Thin Clergyman's bust at Tidmouth.
Trivia
Merchandise
Gallery