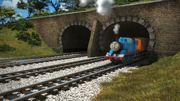 "Henry's Tunnel" is the nickname given to the tunnel on the Main Line near Ballahoo. It got its name in 1922 after Henry refused to come out, claiming the rain would spoil his "lovely green paint with red stripes" and was subsequently bricked up. A second tunnel was bored alongside and Henry was eventually let out sometime before 1923 to help with the express. The tunnel later collapsed but was repaired in time for the unveiling of the Thin Clergyman's bust at Tidmouth.
In the first season of the television series, Henry stopped in the tunnel (like in the Railway Series). In the fourth season, an elephant blocked the tunnel and Henry had to take workmen to clear it. In the thirteenth season, while painted pink; James hid in the tunnel. In the nineteenth season, Thomas hid from Sir Topham Hatt in the tunnel after he lied about an accident.
Trivia
Henry's Tunnel has had numerous modifications throughout the years:
Merchandise
Gallery
Merchandise Gallery
Ad blocker interference detected!
Wikia is a free-to-use site that makes money from advertising. We have a modified experience for viewers using ad blockers

Wikia is not accessible if you've made further modifications. Remove the custom ad blocker rule(s) and the page will load as expected.