Henry's Lucky Trucks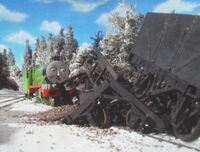 One icy winter, Henry was the only engine to make his deliveries on time. Thomas attributes this to the big green engine having lucky trucks. Unfortunately, one day Edward took them and when Henry finally caught up with him, Henry runs into the trucks, destroying them. Henry realises that his trucks weren't lucky after all.
They only appeared in the eleventh season episode, Henry's Lucky Day.
Basis
Henry's lucky trucks are based on 7 plank end door wagons.
Gallery