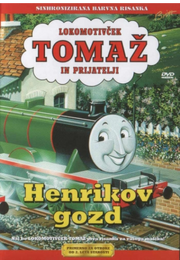 Henry's Forest is a Slovenian DVD containing episodes from the third season narrated by Vladimir Jurc.
Description
Donald has a duck, Thomas gets bumps, James learns not to joke, Toby finds himself in danger. Many adventures happens to our heroes. On this DVD you will find 10 selected cartoons with Thomas and all his friends.
Episodes
"Welcome to the Steamworks, my friend!"

This article is a stub. You can help by expanding it.
Ad blocker interference detected!
Wikia is a free-to-use site that makes money from advertising. We have a modified experience for viewers using ad blockers

Wikia is not accessible if you've made further modifications. Remove the custom ad blocker rule(s) and the page will load as expected.