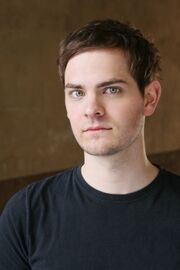 Henning Nöhren (born November 13th, 1985 in Bassum) is a German actor, voice actor, and singer who was a special guest voice actor for German version of Blue Mountain Mystery. His role was later given to Nils Rieke.
He is known for appearing in various television shows in Germany, such as "Danni Lowinski", "Tatort", and "Am Ende die Hoffnung". He is also known for doing voiceover work for German dubs of popular television shows including Ryder Lynn from "Glee", Sam from "Downton Abbey", the title character Naruto Uzumaki from "Naruto Shippuden", Alvin from "ALVINNN!!! and the Chipmunks" and Andy from "Bob's Burgers".
Voices
Trivia
He, Albrecht Ganskopf, Konstantin Graudus, Knud Riepen, Tobias Diakow, Martin May, Achim Buch, Tim Grobe, Benjamin Morik, Judy Winter, Henry König, Charlotte Hedwig, Margret Homeyer, Jürgen Uter, Douglas Welbat, Lutz Herkenrath, Michael Weckler, Rainer Schmitt, Robin Brosch, Achim Schülke, Marek Erhardt, Holger Mahlich, Werner Cartano, Sky du Mont, Klaus Sonnenschein, Volker Bogdan, Jörg Gillner, Manfred Steffen, Christian Brückner, Erik Schäffler, Burkhard Schmeer, Christian Rudolf, Frank Schröder, Oliver Warsitz, Peter Weis, Marie-Luise Schramm, Wilfried Herbst, Fabian Harloff, Oliver Böttcher, Robert Kotulla, Helmut Krauss, Christian Stark, Lutz Harder, Anne Moll, Marion von Stengel, Renate Pichler, Matthias Klimsa and Eckart Dux have all worked on "Tatort".
He worked alongside Christian Stark, Lennardt Krüger, Christian Rudolf, Tobias Schmidt, Fabian Harloff, Martin May, Robert Kotulla, Konstantin Graudus, Merete Brettschneider, Tim Kreuer, Oliver Böttcher, Robert Missler, Patrick Bach, Jürgen Holdorf, Jan-David Rönfeldt, Joshy Peters, Sascha Draeger, Michael Bideller, Joey Cordevin, Christos Topoulos, Volker Hanisch, Nils Rieke, Peter Weis, Rainer Schmitt, Jens Wendland, and Jesse Grimm on "Naruto".
External links