"Ol' Wheezy can be wild! And Hee-Haw..."
"...is just plain crazy!"
"That's right!"
— Dash, Bash, and Ferdinand, Jumping Jobi Wood!, fourteenth season
Hee-Haw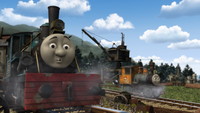 Hee-Haw is a steam donkey crane on Misty Island.
Bio
When Thomas refused to work with Ol' Wheezy, he had Hee-Haw put to use to move the Jobi Wood. The Logging Locos try to tell Thomas not to use Hee-Haw as he uses a lot of oil, which they need to run.
It was later decorated for the Misty Island Christmas party.
Appearances
Voice Actor
Gallery