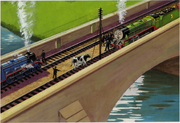 The Hawin Russagh is a stream which starts two kilometres south of Ward Fell, winds past Balladrine, and then turns southwest under The Main Line, heading toward Brendam Bay. Henry and Gordon infamously had an encounter with a cow on the main line bridge.
Ad blocker interference detected!
Wikia is a free-to-use site that makes money from advertising. We have a modified experience for viewers using ad blockers

Wikia is not accessible if you've made further modifications. Remove the custom ad blocker rule(s) and the page will load as expected.