"I tried to warn you about the viaduct. Why didn't you pay attention?"
―Old Bailey, Haunted Henry, fifth season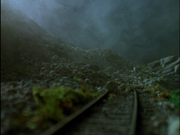 The Hawin Lake Viaduct is a viaduct located near Hawin Lake on the Peel Godred Branch Line. The viaduct crosses over a big ravine. Henry accidentally pushed some trucks down the ravine once when a landslide was blocking the line. The viaduct was only mentioned in the fifth season episode, Haunted Henry. Although the actual viaduct was never seen, the line that runs to it and the ravine that it crosses over were seen.
Gallery
"Welcome to the Steamworks, my friend!"

This article is a stub. You can help by expanding it.
Ad blocker interference detected!
Wikia is a free-to-use site that makes money from advertising. We have a modified experience for viewers using ad blockers

Wikia is not accessible if you've made further modifications. Remove the custom ad blocker rule(s) and the page will load as expected.