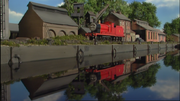 The Hawin Croka Canal is a small canal that is situated between the Kellsthorpe Road and the Kirk Ronan Junction, and is also situated on the Main Line.
In the eighth season episode, James Gets a New Coat, James was admiring his new red paintwork by looking at his reflection in the canal and later Thomas tried to stop James over here from pulling the Sodor football team.
The canal only appeared in the eighth season episodes, James Gets a New Coat and As Good as Gordon, and the tenth season episodes, Thomas and the Colours and James the Second Best. The canal also appeared in a deleted scene from Percy's Big Mistake.
Trivia
In the tenth season, the buildings that appeared beside the rails at the canal disappeared.
Ad blocker interference detected!
Wikia is a free-to-use site that makes money from advertising. We have a modified experience for viewers using ad blockers

Wikia is not accessible if you've made further modifications. Remove the custom ad blocker rule(s) and the page will load as expected.