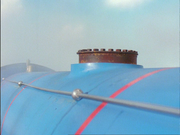 Hawin Ab is a river which starts one kilometre south of Dubbyn Moar, it winds east past Peel Godred through the valley and down to the Irish Sea, located near Cronk, The Viaduct and King Orry's Bridge both cross over the river.
It was here where Gordon lost his dome.
Trivia
When the viaduct appeared in CGI, the Hawin Ab was not seen flowing under it.
Ad blocker interference detected!
Wikia is a free-to-use site that makes money from advertising. We have a modified experience for viewers using ad blockers

Wikia is not accessible if you've made further modifications. Remove the custom ad blocker rule(s) and the page will load as expected.