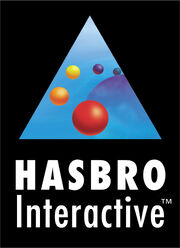 Hasbro Interactive was an American video game production and publishing subsidiary of Hasbro, the large game and toy company, founded in 1995. The company published many PC and console games based on their own board game franchises such as Monopoly and Clue/Cluedo. They also published remakes of arcade games such as Q*Bert and Frogger, and games based on TV shows, one of those being Thomas & Friends. After suffering many losses, Hasbro sold Hasbro Interactive and all its assets (Including Games.com, MicroProse, Atari Interactive and the Game.com handheld console) to the french company Infogrames in 2001. Hasbro Interactive published 3 Thomas & Friends games on the PC.
Releases
Gallery
Ad blocker interference detected!
Wikia is a free-to-use site that makes money from advertising. We have a modified experience for viewers using ad blockers

Wikia is not accessible if you've made further modifications. Remove the custom ad blocker rule(s) and the page will load as expected.