"The engines love to hear tales of ghostly engines, and scary steam trains."
— The Narrator, Halloween, eight season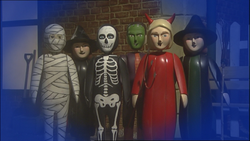 Halloween Engine
The Halloween Engine is a ghostly tender engine that appeared in the Smelters yard in the eighth season episode, Halloween.
During Halloween, the engines love to hear tales about ghostly and scary steam engines. The Halloween Engine was briefly seen in the Smelter's Yard. Thomas, 'Arry and Bert had once mistaken Emily for the Halloween Engine, after a white tarpaulin had fallen on her.
Livery
The Halloween Engine is painted rusty red and brown, resembling the colour of scrap.
Appearances
Trivia
The Halloween Engine's model was recycled from one of Gordon's scrap models and one of Henry's six tenders from Tender Engines, with an added red tail lamp.
Gallery