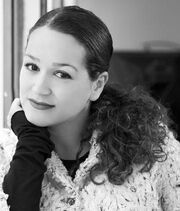 Hadar Shachaf Ma'ayan (Hebrew: הדר שחף מעיין, born August 31st, 1976) is an Israeli voice actress who provided voices in the Hebrew dub of Thomas and the Magic Railroad.
She is best known for voicing the title character of "Sailor Moon", Bart Simpson in "The Simpsons Movie", Isa the Iguana from "Dora the Explorer", Phineas from "Phineas and Ferb", Miss Yelp from "Horton Hears a Who!", Sleeping Beauty from "Shrek the Third", Nymphadora Tonks from the "Harry Potter" films, Mrs. Turner from "The Fairly OddParents", Lila Test from "Johnny Test", Mrs. Wicket from "Mr. Bean: The Animated Series", Daphne Blake from "Scooby-Doo: Mystery, Inc.", Mia from "Cars", Alex from "Totally Spies", Maketh Tua from "Star Wars Rebels", Nanette from "Gnomeo & Juliet" and Lola Bunny from "The Looney Tunes Show" and "Baby Looney Tunes".
She is also the older sister of Gilan Shachaf.