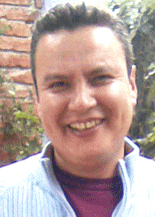 Héctor Moreno (born on September 15th) is a Mexican voice actor who provides voices for the Latin American narration of Thomas & Friends.
He is best known for voicing Big Macintosh from "My Little Pony: Friendship is Magic" and various characters from "Digimon".
Voices
Trivia
Both he and Grzegorz Kwiecień voiced Big Macintosh from "My Little Pony: Friendship is Magic" in their respective languages.

Analiz Sánchez, Mikołaj Klimek, Enrique Cervantes, Susana Moreno, Michał Podsiadło, Claudia Motta, Javier Olguín, Simen Sand, Klaudiusz Kaufmann, Justyna Bojczuk, Anna Gajewska, Ricardo Silva, Carlos Hernández, Ewa Serwa, Loretta Santini, Irina Índigo, Zbigniew Konopka, Isabel Romo, Raúl Solo, Zuzanna Galia, Kim Seung-jun, Jacek Król, Benedikte Kruse, Eduardo Fonseca, Annie Rojas, Sergio Morel, Elsa Covián, Julia Kołakowska-Bytner, Susa Saukko, Kenta Miyake, Joanna Pach-Żbikowska, Moisés Iván Mora, Mia Kadosh, Masashi Ebara, Igor Cruz, Norma Iturbe, Petri Hanttu, Hiroshi Iwasaki, Anna Apostolakis, Tiril Heide-Steen, Przemysław Stippa, Markus Bäckman, Leszek Zduń, Janusz Wituch, Talya Barkay, Edson Matus, Paweł Szczesny, Gerald Schaale, Leyla Rangel, Piotr Bajtlik and Tesshō Genda have also worked on it.

He, Nobuaki Kanemitsu, Ángel Amorós, Roberto Mendiola, Lupita Leal, Jorge Teixeira, Yasuhiro Takato, Fabrice Trojani, Ewa Serwa, Gerald Schaale, Tony Marot, José Arenas, Ricardo Silva, Yasunori Masutani, Taisto Oksanen, Taisuke Yamamoto, Ambrogio Colombo, Satoshi Taki, Yehonatan Magon, Masaharu Satō, Nir Ron, Gerardo Reyero, Junko Noda, Houko Kuwashima, Marie-Luise Schramm, Mireya Mendoza, Igor Cruz, Nanaho Katsuragi, Benjamín Rivera, Arturo Mercado Jr., Pedro D'Aguillón Jr., Tom Deininger, Hiroaki Hirata, Óscar Flores, Irwin Daayán, Yoram Yosefsberg, Carlos Hernández, Chie Kōjiro, Agnieszka Kunikowska, Manuel Campuzano, Dor Srugo, Bin Shimada and Talya Barkay have all worked on "Digimon".
"Welcome to the Steamworks, my friend!"

This article is a stub. You can help by expanding it.