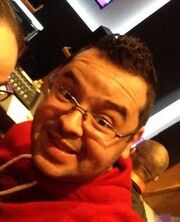 Héctor Emmanuel Gómez (born September 6, 1986) is a Mexican voice actor who provided voices in Thomas and the Magic Railroad, better known to voice Ricochet in the animated series ¡Mucha Lucha!, Kick Buttowski in Kick Buttowski: Suburban Daredevil.
Voices
Trivia
He and Víctor Ugarte had dubbed some roles as Father and son, Brothers and Best Friends, for example in Naruto Shippuden.
He, Jan-David Rönfeldt, Dariusz Błażejewski, Achim Schülke, Don Spencer, Stan Limburg, Francisco Colmenero, Marek Robaczewski, Ron Druyan, Armando Réndiz, Jamie Thomason, Enzo Fortuny, Franz Josef Steffens, Alejandro Mayén, Víctor Ugarte, Andreas von der Meden, Holger Mahlich, Douglas Welbat and Christian Stark have worked on "The Smurfs".
"Welcome to the Steamworks, my friend!"

This article is a stub. You can help by expanding it.