Gunpowder Wagons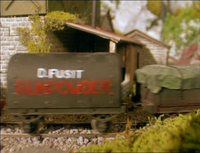 Gunpowder Wagons, as their name suggests, transport gunpowder. Because gunpowder is so dangerous, engines must take the most careful way when shunting them, and they are usually put in the middle of trains for safety.
In the television series, these wagons can be seen on the Mid Sodor Railway, the Skarloey Railway, and at the Blue Mountain Quarry.
Basis
The gunpowder wagons are based on the same type used on the Ffestiniog Railway.
Livery
Gunpowder wagons are painted black with "D. FUSIT" on the side in white and "GUNPOWDER" underneath in red. In the CGI series, they are painted grey and have explosives hazard warnings on them.
Trivia
The name "D. Fusit" is a play on words of "De-Fuse It".
The ERTL packaging refers to "D. Fusit" as a male character and implies that he is sentient.
Merchandise
Gallery
Merchandise Gallery