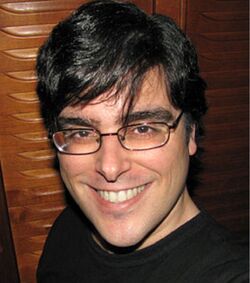 Guilherme Briggs (born on July 25, 1970) is a Brazilian Portuguese who provides Thomas and Friends. It was made from Thomas and the Magic Railroad.
He is best known voicing Marvin the Martian and Pepé Le Pew from Looney Tunes and Mickey Mouse and Pluto from Mickey Mouse Clubhouse.
Voices
Bertie (Thomas and the Magic Railroad)
Trivia
He, Agnieszka Kunikowska, Prokhor Chekhovskoy, Naoki Tatsuta, Grzegorz Kwiecień, Stefan Knothe, Jim Cummings, Alfonso Ramírez, Kari Tamminen, César Soto, Luise Lunow, Masashi Ebara, Tesshō Genda, Irwin Daayán, Saar Badishi, Przemysław Stippa, Zvika Fohrman, Daisuke Gōri, Hadar Shachaf Ma'ayan, Ernesto Lezama, Luis Alfonso Mendoza, Cezary Kwieciński and Simcha Barbiro have all worked on "Looney Tunes".
"Welcome to the Steamworks, my friend!"

This article is a stub. You can help by expanding it.