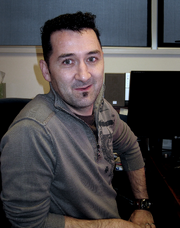 Greg Tiernan was the director of Thomas and Friends from 2009 to 2012. In the twelfth season, he worked as unit director for Nitrogen Studios. He began work directing the series after the CGI transition, taking over from Steve Asquith.
He was replaced by David Baas when production was moved to Arc Productions in 2012.
He was born in Ireland and started Nitrogen Studios in 2003 with Nicole Stinn.
Seasons
Specials
Trivia
Gallery