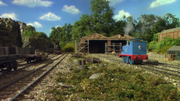 Great Waterton Sheds is an engine shed located just north of Great Waterton. When the first steam engines came to Sodor, they presumably stayed at this shed.
During the restoration of Great Waterton, the sheds was restored so that Thomas could sleep here, as he would be too busy helping with the town's reconstruction to go back to Tidmouth Sheds. Thomas was excited about sleeping at this shed, until James told him about Stanley's arrival.
The shed appears in The Great Discovery.
Gallery
Ad blocker interference detected!
Wikia is a free-to-use site that makes money from advertising. We have a modified experience for viewers using ad blockers

Wikia is not accessible if you've made further modifications. Remove the custom ad blocker rule(s) and the page will load as expected.