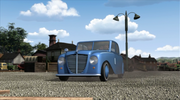 Great Railways is a book containing information and photographs of locomotives from the Mainland and around the world. A similar book was made about the North Western Railway engines called Sodor: The Great Railway.
It was only featured in the sixteenth season episode, Flash Bang Wallop!
Trivia
One of the photographs in the "Great Railways" book is of an R.R.'s Class 14A 2-6-2+2-6-2 Beyer-Garratt and another is of City of Truro. The front cover shows a Fowler 0-4-0 Diesel-mechanical locomotive.
"Welcome to the Steamworks, my friend!"

This article is a stub. You can help by expanding it.
Ad blocker interference detected!
Wikia is a free-to-use site that makes money from advertising. We have a modified experience for viewers using ad blockers

Wikia is not accessible if you've made further modifications. Remove the custom ad blocker rule(s) and the page will load as expected.