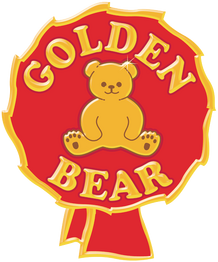 Golden Bear Toys is a UK toy maker, famous for brands like In the Night Garden..., My First JCB, CBeebies Bugs, and more. They created the My First Thomas range, and other Thomas & Friends merchandise for 2016.
Toys
Talking Thomas Soft Toy (small and large)
Talking James Soft Toy (small and large)
Talking Percy Soft Toy (small and large)
Glowing Musical Thomas
Thomas & Friends Felts Set
Thomas & Friends Mini Sketchy Fun
Trivia
When both Talking James plushes say "I'm the brightest red engine on Sodor.", he has his fourth season whistle sound.
The Large Talking Percy Soft Toy has Keith Wickham and Nigel Pilkington as the voices.
Re-used phrases include:
External Links
"Welcome to the Steamworks, my friend!"

This article is a stub. You can help by expanding it.
Ad blocker interference detected!
Wikia is a free-to-use site that makes money from advertising. We have a modified experience for viewers using ad blockers

Wikia is not accessible if you've made further modifications. Remove the custom ad blocker rule(s) and the page will load as expected.