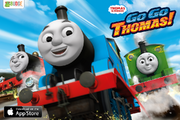 Go Go Thomas is a 3D game application developed by Budge Studios, available to download for free on iTunes and the Google Play store (Formerly Android Market). It also offers In-App purchases.
Description
Budge Studios™ presents Thomas & Friends: Go Go Thomas! - a fun speed game for kids. Race against other engines or select two trains to race against a friend! Use speed boosters to help you race your fastest, and complete your trophy for a special special delivery. Full steam ahead!
FEATURES
Race as Thomas, Percy, James, Emily or Toby against other engines
Play in either "1 Player" or "2 Player" mode to challenge a friend!
Tap the green button as fast as you can to get going
Use speed boosters to puff even faster – a unique one for each engine!
Speed through different 3-D settings, from the Countryside to the Castle!
Unlock a new trophy piece with each win
Slide all of the pieces together to complete your trophy and get the special
SPEED BOOSTERS
Thomas' Speed Boost: Accelerate your speed
Percy's Track Jump Booster: Jump in the air and land further ahead
James' Turbo Boost: Boost faster than any of the other engines
Toby's Lightning Burst Booster: The flashiest of them all
Emily's Steam Boost: Boost further along her track
Game levels
Characters
Trivia
Toby has his original bell sound.
Diesel's Power Shift allows him to use the other engines' speed boosters to overtake them. This explains why he incorrectly uses Thomas', Emily's, James' and Percy's whistles and Toby's bell.
Goofs
Emily has Henry's whistle sound.
James' wheels are red.
Each engine's wheels and pistons do not move.
The middle of each engine's wheels are white.
James' and Emily's tenders are actually bigger than them.
James is missing his whistle.
Gallery
Trailers