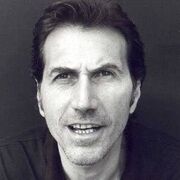 Giorgio Locuratolo (born in Turin, Piedmont, Italy on September 26th, 1954) is an Italian voice actor and the current narrator of Thomas & Friends in Italy. He has narrated the series since the eighth season.
He is best known as the official voiceover to David Hasselhoff. He is also known for voicing Alcor in the Italian dubbing of the anime series Goldrake.
"Welcome to the Steamworks, my friend!"

This article is a stub. You can help by expanding it.
Ad blocker interference detected!
Wikia is a free-to-use site that makes money from advertising. We have a modified experience for viewers using ad blockers

Wikia is not accessible if you've made further modifications. Remove the custom ad blocker rule(s) and the page will load as expected.