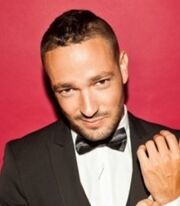 Gilan Shachaf (Hebrew: גילן שחף, born September 22nd, 1985) is an Israeli voice actor, singer and musician who joined the Hebrew voice cast of Thomas & Friends as a guest actor in Sodor's Legend of the Lost Treasure. Shachaf provided voices and performed songs in the Hebrew dubs of Sodor's Legend of the Lost Treasure, Tale of the Brave and King of the Railway.
He is known for voicing Billy from "Bolt", Kaito Dōmoto from "Mermaid Melody Pichi Pichi Pitch", Mark Chang from "The Fairly Oddparents", Kristoff Bjorgman from the "Frozen" franchise, Mordecai from "Regular Show", Scott Tracy from "Thunderbirds are Go", Alvin from "ALVINNN!!! and The Chipmunks", Klaus from "Supa Strikas" and Nash from "The Good Dinosaur".
Voices
Songs
Trivia
He is the younger brother of Hadar Shachaf Ma'ayan.
He, Rasmus Hardiker, David Menkin, Teresa Gallagher, William Hope, Bob Golding, Togo Igawa, Nick Ostler, Dave Peacock, Mark Huckerby, Saar Badishi and Yehonatan Magon have all worked on "Thunderbirds Are Go". Several other people have worked on other parts of the Thunderbirds franchise:
Arturo Cataño, Daniel del Roble, Krzysztof Szczerbiński, Miłogost Reczek, Waldemar Barwiński, Moisés Iván Mora, Joanna Pach-Żbikowska, Piotr Bajtlik, Dor Srugo, Przemysław Stippa, Ulises Maynardo Zavala, Gilan Shachaf and Erik Skøld have all worked on "Regular Show".
"Welcome to the Steamworks, my friend!"

This article is a stub. You can help by expanding it.