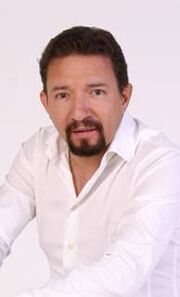 Gerardo Reyero (born on October 2nd, 1965) is a Mexican voice actor who provides voices in the Latin American narration of Thomas & Friends.
He is best known for voicing Lord Frieza in "Dragon Ball Z", Spritz T. Cat in "Samurai Pizza Cats", Reverend Lovejoy from "The Simpsons", Cyclops from "X-Men: The Animated Series", Meta Knight from the "Kirby" anime, Tuxedo Mask from "Sailor Moon", Devimon from "Digimon Adventure", the Chief from "T.U.F.F. Puppy", Han Solo from the "Star Wars" franchise and The Candlemaker from "The Book of Life".
Voices
Trivia
Ad blocker interference detected!
Wikia is a free-to-use site that makes money from advertising. We have a modified experience for viewers using ad blockers

Wikia is not accessible if you've made further modifications. Remove the custom ad blocker rule(s) and the page will load as expected.