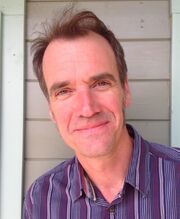 Gerard "Gez" Foster was an episode writer for Thomas and Friends. He has also written some of the Mr. Perkins segments. He has written eight scripts for the series in total, however only two have been aired and are unlikely to have been produced. He has also written for "My Parents are Aliens", "Horrible Histories", "Mike the Knight", "The Slammer", "Postman Pat", "SMTV", and "S-Club".
Episodes
Mr. Perkins Segments
Trivia
Source
"Welcome to the Steamworks, my friend!"

This article is a stub. You can help by expanding it.
Ad blocker interference detected!
Wikia is a free-to-use site that makes money from advertising. We have a modified experience for viewers using ad blockers

Wikia is not accessible if you've made further modifications. Remove the custom ad blocker rule(s) and the page will load as expected.