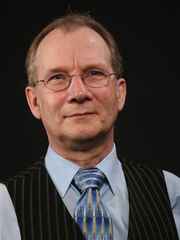 Gerald Schaale (born May 7th, 1955 in Berlin) is a German voice actor.
He is well known for voicing characters in dubs of various shows and films, including Rabbit from "Winnie the Pooh", Pinocchio from the "Shrek" films, various characters from "Digimon", Bobby Hill from "King of the Hill", Blurr from "Transformers Animated", Pa Grape from "VeggieTales in the House", Rattrap from "Transformers: Beast Machines", and Mort from the "Madagascar" series.
Voices
Trivia
Ad blocker interference detected!
Wikia is a free-to-use site that makes money from advertising. We have a modified experience for viewers using ad blockers

Wikia is not accessible if you've made further modifications. Remove the custom ad blocker rule(s) and the page will load as expected.