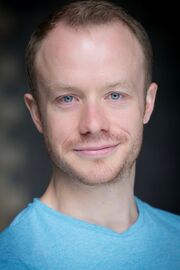 Gareth Cassidy is a British actor who played trainee engine driver Archie Higginbottom in the Mr. Perkins segments. He was trained at Manchester Metropolitan University School of Theatre and has had numerous stage appearances. Gareth has appeared on television in South Riding and has recorded a number of plays for BBC Radio 4 and various audio-books for HarperCollins.
External links
"Welcome to the Steamworks, my friend!"

This article is a stub. You can help by expanding it.
Ad blocker interference detected!
Wikia is a free-to-use site that makes money from advertising. We have a modified experience for viewers using ad blockers

Wikia is not accessible if you've made further modifications. Remove the custom ad blocker rule(s) and the page will load as expected.