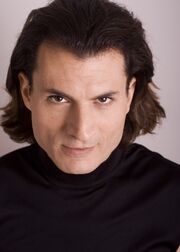 Gadi Levy (Hebrew: גדי לוי, born on December 14th, 1969) is an Israeli voice actor who provides voices for the Hebrew narration of Thomas & Friends.
He is best known for voicing Denzel Crocker from "The Fairly OddParents", various characters from the 2012 "Teenage Mutant Ninja Turtles" series, Dad McStuffins from "Doc McStuffins", Fidgel from "3-2-1 Penguins!", Cyril Sneer from "The Raccoons", Grover from "Sesame Street", Leatherbeak from "Free Birds", Griffin the Invisible Man from the "Hotel Transylvania" films, Deuce Gorgan and Gil from "Monster High", Turner and Rusty from "Handy Manny", various characters from "Batman: The Brave and the Bold", Skully from "Jake and the Neverland Pirates" and Travis, Spud and Two-Tonne from the "Bob the Builder" franchise.
Voices
Trivia
Ad blocker interference detected!
Wikia is a free-to-use site that makes money from advertising. We have a modified experience for viewers using ad blockers

Wikia is not accessible if you've made further modifications. Remove the custom ad blocker rule(s) and the page will load as expected.