G-Hewi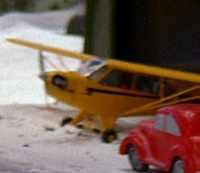 G-Hewi is a yellow aeroplane that was only seen at Dryaw in the third season. It is based upon a real aeroplane which carries the same registration.
Livery
G-Hewi is painted yellow with a black stripe under its windows. Its name is painted in black on the tail.
Appearances
G-Hewi also appeared in the magazine story, Lost Luggage!
Gallery