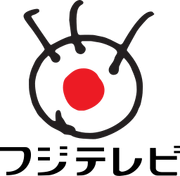 Fuji Television Network, Inc (Japanese: フジテレビ) . is a Japanese television station based at Minato, Tokyo. It was founded in 1948 and started broadcasting in 1959.
They are best known for broadcasting various shows in from both their home country and other regions, including "Iron Chef", "Little Women", "Quiz $ Millionaire", "Speed Racer", and "Thomas & Friends".
Fuji Television Network took part in the production of the third season. Which first aired in the US in 1991 on Shining Time Station.
They also released home videos of Thomas and Friends up until the eighth season.
Releases
Thomas the Tank Engine
New Thomas the Tank Engine
The Best Series
New Thomas the Tank Engine 2
Let's Sing Thomas Songs Together
The Complete Works of Thomas the Tank Engine 1
The Complete Works of Thomas the Tank Engine 2
Thomas the Tank Engine Series 6
Thomas the Tank Engine Series 7
Sing-Along and Stories
Thomas the Tank Engine Series 8
Original Songs
Other
Characters
Gachapin
Mukku
P-Chan
Connie
External Link