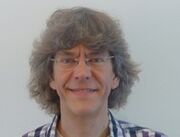 Franciscus Frederik (Fred) Meijer (born in The Hague, Netherlands, on November 15th, 1960) is a Dutch voice actor who has done work for several children's series and commercials. He provides voices for the Dutch dub of Thomas & Friends.
He is well-known for providing his voice for characters in Dutch dubs of cartoons, such as Lawrence in "Phineas and Ferb", Captain K'nuckles in "The Marvelous Misadventures of Flapjack", Derek from "Bobby's World", Professor Utonium from "The Powerpuff Girls", various characters from "Avatar: The Last Airbender", Mustafa from "Ratatouille", Buttercup from "Toy Story 3" and the second Dutch voice to Telly Monster from "Sesame Street" following Alfred Lagarde's death.
Voices
Trivia
He, Albert Cohen, Eduardo Garza, Marjolein Algera, Fabian Harloff, Robert Missler, Stefan Knothe, Nadine Schreier, Janusz Zadura, Denise Cassar, Mark Skillicorn, Petri Hanttu, Angela Quast, Dagmar Dreke, Dov Reiser, Louise Raeder, Ricardo Mendoza, Beata Wyrąbkiewicz, Gadi Levy, Manfred Steffen, Alec Baldwin and Alejandro Mayén have all worked on "Sesame Street".
"Welcome to the Steamworks, my friend!"

This article is a stub. You can help by expanding it.