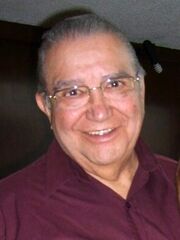 Francisco Colmenero (born February 28th, 1932) is a Mexican voice actor and dubbing director who voiced characters in the Latin American narration of Thomas & Friends.
An active voice actor in Mexico since 1954, he has provided voices for various Disney productions, including Goofy until "Goof Troop", Pete, Eeyore in "The New Adventures of Winnie the Pooh", Pumba from "The Lion King", Horace from "101 Dalmatians", and Mr. Snoops from "The Rescuers". Other credits include the title character of "Yogi Bear", Barney Rubble from "The Flintstones", Papa and Grouchy Smurf from "The Smurfs", the title character of Scooby-Doo, Statler and Swedish Chef from "The Muppets", Lofty from "Bob the Builder" and many more.
Voices
Trivia
Both he and John Gielgud voiced Merlin from "Quest for Camelot" in their respective languages. Pierce Brosnan also starred in the film.
Both he and Naoki Tatsuta voiced Mr. Snoops from "The Rescuers" in their respective languages.
External links