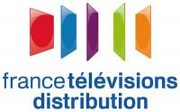 France Télévisions Distributions releases French Thomas and Friends DVDs. They also distribute many other children's and adult's DVDs in France, including "Bob the Builder", "Pingu", "Mr Men", "Pokémon", "Roary the Racing Car", "Tractor Tom", and many more.
Releases
Ad blocker interference detected!
Wikia is a free-to-use site that makes money from advertising. We have a modified experience for viewers using ad blockers

Wikia is not accessible if you've made further modifications. Remove the custom ad blocker rule(s) and the page will load as expected.