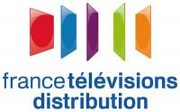 France Télévisions Distributions releases French Thomas and Friends DVDs. They also distribute many other children's and adult's DVDs in France, including "Bob the Builder", "Pingu", "Mr Men", "Pokémon", "Roary the Racing Car", "Tractor Tom", and many more.
Releases
"Welcome to the Steamworks, my friend!"

This article is a stub. You can help by expanding it.