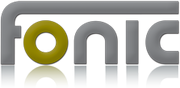 Fonic is a sound design company in the UK. It was formed in 2004 by Jake Roberts and Barnaby Templer after graduating at the National Film and Television School. The company is best known for sound mixing the audio tracks on Thomas and Friends since the CGI switch.
Other television shows and commercials they are known for working on are "Peppa Pig", "The Cat in the Hat Knows a Lot About That", "Subway", "Channel 4", and "The Secret Show".
External link
Ad blocker interference detected!
Wikia is a free-to-use site that makes money from advertising. We have a modified experience for viewers using ad blockers

Wikia is not accessible if you've made further modifications. Remove the custom ad blocker rule(s) and the page will load as expected.