Ad blocker interference detected!
Wikia is a free-to-use site that makes money from advertising. We have a modified experience for viewers using ad blockers

Wikia is not accessible if you've made further modifications. Remove the custom ad blocker rule(s) and the page will load as expected.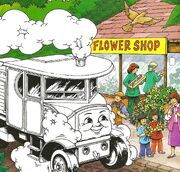 Flower Shop 
is shop situated on 
Elizabeth
's route. One day, when 
Harvey
 wants to be helpful like the boy scouts, Elizabeth breaks down at a level crossing. Harvey decides to help her, by pulling her to 
The Works
 to be repaired. Elizabeth thanks Harvey and continues on her journey to the flower shop. When she arrives, Harvey smiles as he helps 
Edward
, from his accident with 
Emily
. He smiles because he had the opportunity to help Elizabeth, just like the boy scouts helped the old lady across the street. At the flower shop, the florist thanks Elizabeth.
Crowe's Farm is north of the flower shop and every time Elizabeth drove by, the florist would wave and Elizabeth would honk happily.