"You don't know the rules!"
―Fergus to Diesel
Fergus Breaks the Rules, retitled Thomas and the Search for Fergus in some American releases, is the eighteenth episode of seventh season.
Plot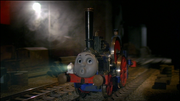 The Fat Controller has brought Diesel to help out at the Cement Works for a while. However, Diesel becomes annoyed with Fergus. Later on, Diesel lies to Fergus about the Fat Controller sending him to work at the scrapyards. When Fergus arrives, 'Arry and Bert frighten the traction engine and he runs away. The Fat Controller receives a call that Fergus is missing. So, he sends Thomas to search for him. He finds Fergus hiding in a siding and takes him to the smelters yards where the Fat Controller is waiting. In the end, Fergus happily goes back to work at the Cement Works, and Diesel is transferred to the smelters yards as punishment.
Characters
Locations
Trivia
Going by production order, this is the nineteenth episode of the seventh season.
Some scrap models of Thomas, Gordon, James, Donald or Douglas, Toad and City of Truro are seen in the smelter's as well as two of the scrapped tenders from the third season episode Tender Engines.
Stock footage from Bill, Ben and Fergus is used.
This episode marks Fergus' last speaking role and last appearance to date.
This is one of several episodes from the seventh season to have its title card read on Nick Jr. and PBS airings.
Michael Brandon's narration was used for the UK HiT Favourites DVD, The Groovy Collection.
Not counting deleted scenes in Something Fishy and Peace and Quiet, this marks the first and only appearance of the Sodor Cement Works in an episode to date.
Elizabeth's Shed appears at the quarry Fergus hides in.
Goofs
When Thomas and Fergus arrive at the smelters, Thomas' eyes are wonky.
Just before 'Arry and Bert come into view, a crew member's hand can be seen holding them back and then releasing them.
A red wire can be seen underneath Fergus when he first arrived at the smelter's yard.
When Fergus arrives at the Smelters and escapes, his lamp is on his right side. When he hides in the siding, his lamp is on his left side.
During some scenes at the quarry, Fergus' right front buffer is crooked.
Merchandise
In Other Languages
| Language | Title |
| --- | --- |
| Chinese | 佛格斯犯规了 |
| Danish | Fergus stikker af |
| Hungarian | Fergus Megszegi a Szabályt |
| Italian | Fergus Disobbedisce |
| Japanese | ファーガスときそく |
| Korean | 도망자 퍼거스 |
| Polish | Franek Łamie Reguły |
| Romanian | Fergus Încalcă Regulile |
| Russian | Фэргус нарушает правила |
| Serbian | Fergus je prekršio pravilo |
| Slovak | Fergus porušuje pravidlá |
| Swedish | Fergy bryter mot reglerna |
| Thai | โฟกัสหายไป |
| Welsh | Fergus yn Dianc |
Home Media Releases
---