"You have caused confusion and delay!"
— Sir Topham Hatt when he scolds his engines, which they have done something wrong
Sir Topham Hatt
"The Fat Controller"
Born: 1880 (Sir Topham Hatt I)
1914 (Sir Charles Topham Hatt)
1941 (Sir Stephen Topham Hatt)
Died: 1956 (Sir Topham Hatt I)
1997 (Sir Charles Topham Hatt)
Sir Topham Hatt, nicknamed "The Fat Controller" in the UK series (previously known as "The Fat Director"), is the manager of the North Western Railway and is a human father to his engines.
The Fat Controllers
So far, there have been three controllers in charge of the North Western Railway.
Sir Topham Hatt I (1880-1956)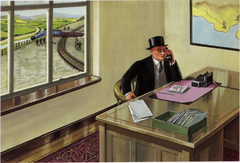 Topham Hatt was apprenticed at Swindon Works at age fourteen and seems to have struck a friendship with W. A. Stanier during his time there. He came to Sodor in 1901 and joined A. W. Dry & Co. at Tidmouth. On their recommendation, he became engineer to the Tidmouth, Knapford and Elsbridge Light Railway in 1909, the Tidmouth, Wellsworth & Suddery in 1912 and the North Western Railway upon its formation in 1914. On the North Western Railway, he rose to be general manager in 1923, managing director in 1936 and upon Nationalisation in 1948, he was created a baronet on his appointment as chairman of the Regional Executive.
He married Jane, sister of Mr. Handel Brown in 1910 and they had two children, Barbara Jane (born 1911), who married Henry Regaby in 1938, and Charles Topham. He retired in 1954 in favour of his son Charles, whom the board had no hesitation in electing as his successor. He died at Wellsworth in 1956.
In The Three Railway Engines and Thomas the Tank Engine, he was nicknamed "The Fat Director" before his nickname changed to "The Fat Controller" in James the Red Engine.
Sir Charles Topham Hatt II (1914-1997)
Sir Charles Topham Hatt was the second Fat Controller from 1954 to 1984, when he retired in favour of his own son.
Charles Topham Hatt was educated at Abbey School, Cronk and from there went to Crewe Works as an engineering pupil under Sir William Stanier in 1932. He was present during Henry's rebuilding in 1935. In 1937, he was recommended for railway service overseas by Mr. Stanier, but he returned in 1939 to enlist in the Royal Engineers, serving with them throughout the Second World War. He was demobilised in 1945 with the rank of Colonel.
He spent a further period oversea, before returning to Sodor in 1952 to become Chief Mechanical Engineer at Crovan's Gate Works and general assistant to his ageing father.
During his period of office, he began improvements to the harbour at Knapford, planned by his father and reopened the Arlesburgh branch in 1965/6, being responsible for the construction of the Arlesdale Railway and for establishing the ballast consortium which uses it.
His cousin, Sir Handel Lloyd Brown II, was born in 1924. He married Amanda Croarie in 1940 and they had two children, Stephen Topham, born in 1941 and Bridget, born in 1943. Charles inherited his father's baronetcy in 1956.
Sir Stephen Topham Hatt III (1941-)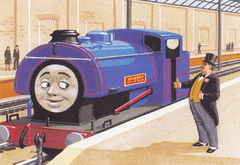 Sir Stephen Topham Hatt (who first appeared in Toby the Tram Engine while on a family holiday in East Anglia with his sister and grandparents) became the third Fat Controller in 1984, succeeding to his father's baronetcy in 1997. In 1970, he married Helen Margaret, a distant cousin and granddaughter of the Reverend Nicholas Dreswick, the much-respected historian of Sodor. They had three children: Richard Topham, born in 1972 and no doubt destined to be Sir Topham Hatt IV (his father was seventy-four in 2015, though he has, as yet, given no hint of retiring), Charles Nicholas (1974-) and Emily Helen (1977-).
With great skill, he masterminded the arrangements for the royal visit in 1995, when he welcomed the Prince of Wales on his visit to Sodor.
Sir Topham Hatt in the Television Series
In the television series, there is only one Sir Topham Hatt. He can be described as a combination of the three controllers from the Railway Series.
In his youth, he was a Boy Scout. Prior to him becoming Controller of the North Western Railway, Sir Topham Hatt owned a Sentinel steam lorry named Elizabeth, who notes that he was not the best driver. When he was a young man, Edward always took him aboard an old coach on his birthday. He also built the Coffee Pots some time prior to Thomas arriving on Sodor. Sir Topham later received his knighthood for his service to the railway industry. He was also the controller of the Skarloey Railway, until Mr. Percival was hired to help him manage the ever-increasing size of his railway industry. Prior to Blue Mountain Mystery, he bought a track inspection car named Winston, who is often used as a private transportation vehicle on the railway.
Sir Topham Hatt married Lady Hatt and is the grandfather of Stephen and Bridget Hatt. He has a twin brother, Sir Lowham Hatt and his mother is Dowager Hatt. According to the Official Website, "we have yet to meet his children".
As well as owning several engines, he owns a cat, two cars and lives in a mansion somewhere on the outskirts of Wellsworth.
Persona
Sir Topham Hatt is firm but fair. He can be strict, but also shows a fatherly side to the engines. He is quite a strong character and will remind the engines that he is in charge when they start to rebel against his authority. He does not stand bullying and even though he is usually serious, he does enjoy a good laugh. Despite his kindness and fairness, however, there are times where he berates the engines for situations beyond their control.
Attire
Sir Topham Hatt is a short, stout gentleman. He usually wears morning dress, consisting of a black tailcoat with grey trousers, a cream, yellow or grey waistcoat, a black tie and a black top hat. He is most often depicted as having thinning grey hair and blue eyes.
Appearances
Specials:

Learning Segments: Models:

Animation:

Sir Topham Hatt also appeared in the magazine stories, Thomas and the Baby, A Colourful Christmas, A Friend's Party, A Hole in One, A Job for James, A Perfect Garden, A Puzzle for Percy, A Special Story about Guards and Porters, An Old Friend, Arthur and Emily, Back-to-Front, Bertie's Bad Day, Big Catch, Bill and BoCo, Blowing About!, Building Blues!, Bulgy's Dream, Bulstrode the Engine, Bumpers and Buffers, Catch!, Caught Out, Chiff Chaff, Christmas Puddings, Clever Carriages, Clever Climbers!, Clowning Around, Daisy's Day, Diesel's Drums, Diesel's Nasty Turn, Diesel Causes Delay, Diesel Display, Doctors and Nurses, Dressing Up, Edward's Scarecrow, Fair Scare!, Fast Food!, Feeding Time, Fish and Chips, Fish and Fog!, Flying James, Frying or Flying, Fun and Games!, Funnels and Tunnels, Gone Fishing, Gordon and Edward, Happy Holiday!, Harold and the Broken Tree, Hello, Skarloey!, Henry's Secret, Henry's Soaking!, Hooked Hat, I Spy with my Little Eye, James and Edward, James and the Cheese, Jim's Jungle Ride!, Just Right, Lamp Light!, Lights On, Looking Splendid, Lost Luggage!, Misbehaving, Mountains and Mess!, New Paint, On Your Guard!, Party Time!, Percy gets Wet!, Percy's House, Percy's Plight, Percy and the Trucks, Picnic Surprise, Pirate Passengers, Pot Luck!, Proud Percy!, Puzzles, Railway Open Day, Really Useful Edward, Retirement Time, Rhyming Engines, Road Ride, Road Train, Rushing Around, Rusty's Plan, Santa Special, Scaredy Puffer!, Sea-Bound Salty, Sea Sick, Seeing Steam, Ship Ahoy!, Slick Trick!, Snap Happy, Snow Engine, So Much to See, Sodor's Strong Man, Sodor's Strongest Engine, Sodor Goes Pop!, Sodor Rock, Sounds Useful, Special Treats, Spotty Spencer, Spooky Station, Station Mystery, Steaming Along!, Stick with Steam, Stolen Apples, Stormy Weather, Sunny Smile, Super Splash, Take Off with Terence, That Caps it All, The Balloon Race, The Best Band, The Best Bridge, The Best Engine, The Christmas Sacks, The Cliff Railway, The Craft Show!, The Flower Dome, The Flying Broomstick, The Grand Controller, The Great Statue Robbery, The Hallowe'en Special, The Kettle Train, The Mystery Tour, The Open Top Bus, The Poorly Engine!, The Runaway Percy, The Smugglers, The Very Important Job and Think Pink.

1985 - Percy to the Rescue, Thomas and the Important Visitor, Donald's Duck (mentioned) and Gale Warning
1986 - Percy and the Christmas Tree (mentioned), Old Groaner and Gordon's Stowaway (mentioned)
1987 - Donald and the Lost Tarpaulin (mentioned), Signal Failure and Percy's Passengers (mentioned)
1988 - Responsibilities (mentioned) and Thomas and Trevor (mentioned)
1989 - Trapped by Trees (mentioned), Post Early for Christmas (mentioned) and Harold and the Landslide (mentioned)
1990 - Thomas and the Cricketers (mentioned), Hosepipes and Shunters (mentioned), Old Square Wheels (mentioned) and Points of No Return
1992 - Percy and the Vicar's Prizes and Galloping Sausage (mentioned)
1993 - James' Traffic Jam, Thomas and the Snow Block, Oliver Gets the Bird (mentioned) and The Hut that Walked by Itself (mentioned)
1994 - Thomas and the Tickles (mentioned), James' Rest Cure and Bertie the Snow Bus
1996 - James Gets Cracking, Rings a Bell!, All Pull Together (not seen), The Wrong Shirt and Pantomime Pranks
1997 - Percy in Print and We Wish You a Merry Christmas!
1999 - Blooming Railways (does not speak) and Blowing Bubbles
2000 - Thomas the Famous Engine, Double Trouble, The Flood and Star Engines
2002 - Terence to the Rescue (does not speak), Percy's Dream (does not speak) and Harold the Helicopter
2011 - Hiro Helps Out
2013 - Gordon's Shortcut and Hiro Helps Out
2013 Holiday Annual - The Biggest Present of All (cameo)

Videos
Voice Actors
Trivia
Due to political correctness, the Fat Controller is always referred to by his real name, "Sir Topham Hatt" in the US.

Even so, in certain US episodes, the engines' mouths are not reanimated properly, as their mouths say "The Fat Controller" when they verbally say "Sir Topham Hatt".
Also, several times in the UK script, Sir Topham Hatt is addressed by his nickname in public, when it would be inappropriate. That fixed in Blue Mountain Mystery, when Victor called the Fat Controller's real name "Sir Topham Hatt".

The Fat Controller's television series model from Lady Hatt's Birthday Party appeared in the 2009 "Children in Need" charity single and was animated using stop-motion.
In an earlier draft of Thomas and the Magic Railroad, Diesel 10 calls him "Fat Hatt", a combination of his nickname and his real name.
According to Elizabeth, Sir Topham Hatt was a bad driver in his younger days. When he is seen driving Winston, it seems his skills have not improved.
The Fat Controller's office set was part of an exhibit at the Hangaram Museum in Korea in 2010.
Large scale and miniature models of Sir Topham Hatt are currently in the safe hands of the Top Props preservation group, after they were sold by The Prop Gallery. A large scale walking model of Sir Topham Hatt was also sold by The Prop Gallery.
Throughout the television series, Sir Topham Hatt is accompanied by two men in standard blue railway uniforms. They are presumed to be his assistants. In Percy and the Calliope, the narrator refers to them as "helpers".
Sir Topham Hatt received his knighthood for his services to the railway industry and an award for "Services to Transport".
In the book, Thomas-saurus Rex, it states that Sir Topham Hatt used to be called "Little Topham Hatt" in his youth. His grandfather also appears in the book.
Sir Topham Hatt's television series model had eyebrows inconsistently. Between the sixth and eleventh seasons, the model mainly did not have them at all.
The alternative rock band Catherine Wheel released a song named after the Fat Controller called "Here Comes The Fat Controller" on their 1997 album Adam and Eve.
From the thirteen season to the fifteen season, Sir Topham Hatt was referred to as "Bertram" (not to be confused with the engine).
In most episodes and specials, Sir Topham Hatt is seen writing with his right hand. But in No Help At All, he is seen writing left-handed. This could likely be a mistake, but may also mean he is ambidextrous (being able to write with both hands).
The Fat Controller has a Jamaican accent in the UK narration in fifth - twelfth seasons.
A photo of the Fat Controller from the first season episode, Trouble in the Shed was shown on a web-exclusive video of Last Week Tonight with John Oliver.
Quotes
"I never like these big engines. Always going wrong. Send for another engine at once!"
- Sir Topham Hatt, The Three Railway Engines
"This gentleman is a gentleman who knows how to speak to engines."
- Toby about Sir Topham Hatt, Toby the Tram Engine
The Fat Controller spoke severely to Daisy too.
"My engines do not tell lies! They work hard with no shirking. I send lazy engines away!"
"However, Toby says you worked hard yesterday, after Percy's accident. So you shall have another chance!"
"Thank you, sir! I will work hard, sir. Toby says he'll help me."
"Excellent! What Toby doesn't know about branch line problems, such as er..bulls, isn't worth knowing. Our Toby is an experienced engine!"
- Sir Topham Hatt and Daisy, "Percy's Predicament", "Branch Line Engines".
"Oh, it's you! Have you learned to drive properly yet?"
- Elizabeth, Elizabeth the Vintage Lorry, sixth season
"You are lucky Gordon, to have a controller who knows how to run railways."
-Flying Scotsman, Enterprising Engines
Merchandise
Ad blocker interference detected!
Wikia is a free-to-use site that makes money from advertising. We have a modified experience for viewers using ad blockers

Wikia is not accessible if you've made further modifications. Remove the custom ad blocker rule(s) and the page will load as expected.