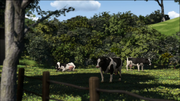 Farmer Trotter's Field is located close to the railway. It has never been referred to as Farmer Trotter's Field in the television series, but has been seen numerous times.
The field is revealed to be owned by Farmer Trotter in the Thomas Story Time book, Express Coming Through! The field does not appear to be part of Farmer Trotter's Farm and is home to several cows which may belong to Farmer Trotter.
Thomas stopped there one time when he was taking a giraffe to the Animal Park, but the giraffe did not want to lower its neck when they were going under a bridge.
Thomas also once dropped off some important visitors there when he was pulling the express.
Gallery