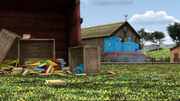 Farmer McColl's Field is located opposite his farm. Once, Thomas ignored a "men-at-work" sign and chuffed too fast on the bumpy tracks that were under repair and the load of books he was carrying bounced off the rails and into the field where they then held a "storytime picnic in the sun".
It was also the location for Sir Topham Hatt's winter holiday party in Henry's Magic Box.
Sheep and cattle can occasionally be found grazing in the field.
In the nineteenth season, it has been replaced by trees.
At planting season, seeds are planted in the field and a scarecrow is erected to scare away the crows.
In the 2007 magazine story, The Lost Spring, Farmer McColl said there was an underground spring located somewhere beneath his field. Ben later unearthed it by accident and it provided enough water for Farmer McColl's crops throughout a bad heatwave.
Gallery