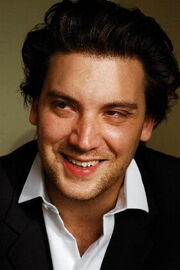 Fabrice Trojani (born on 20 January 1978 in Suresns, Hauts de Seine, France) is a French actor. He has been working on the French version of Thomas & Friends since its full voice cast was introduced in the eighth season, though did certain episodes from the sixth and seventh as well.
He also does the French dubbing for other characters like "Iggy Arbuckle", Davis from "Digimon", Tahno from "The Legend of Korra", Beau Rockley from "VeggieTales in the House", and Ferb from "Phineas and Ferb".
Voices
Trivia
He, Nobuaki Kanemitsu, Ángel Amorós, Roberto Mendiola, Lupita Leal, Héctor Moreno, Jorge Teixeira, Yasuhiro Takato, Ewa Serwa, Gerald Schaale, Tony Marot, José Arenas, Ricardo Silva, Yasunori Masutani, Taisto Oksanen, Taisuke Yamamoto, Ambrogio Colombo, Satoshi Taki, Yehonatan Magon, Masaharu Satō, Nir Ron, Gerardo Reyero, Junko Noda, Houko Kuwashima, Marie-Luise Schramm, Mireya Mendoza, Igor Cruz, Nanaho Katsuragi, Benjamín Rivera, Arturo Mercado Jr., Pedro D'Aguillón Jr., Tom Deininger, Hiroaki Hirata, Óscar Flores, Irwin Daayán, Yoram Yosefsberg, Carlos Hernández, Chie Kōjiro, Agnieszka Kunikowska, Manuel Campuzano, Dor Srugo, Bin Shimada and Talya Barkay have all worked on "Digimon".