Express Coaches
Talk

16
4,364pages on
this wiki
There are many types of express coaches used for fast trains on the Main Line.
Green Express Coaches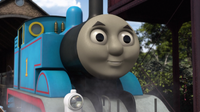 Red Express Coaches
Blue Express Coaches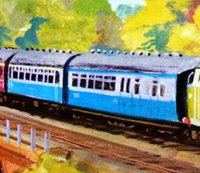 Express coaches form the fast and important passenger trains and are normally pulled by Gordon, James, or Henry. Several of these coaches form the express, known as the "Wild Nor' Wester" - usually pulled by Gordon, although Henry, James, and Bear take the train when Gordon is busy - other coaches form the "Limited", which was pulled by Bear in Enterprising Engines.
In the Railway Series, the coaches were primarily painted yellow-orange until circa 1984, when they were repainted maroon with a yellow stripe. In the television series, the coaches are painted either green or red with custard-yellow or white window surrounds. The green version is primarily used for the express. While the red version did not appear until the second season and is used for other fast trains and occasionally used for the express.
The express coaches are based on SR Maunsell Stock, LNER Gresley and GWR suburban with added corridor sections onto the ends of the coaches and the larger windows of corridors stock on the far sides.
Merchandise
Edit
The coaches are not available in their Railway Series liveries.
The Red Coaches are available in:
The Royal Train
Edit
The Royal Train
The Royal Train was the train that transported Queen Elizabeth II in Paint Pots and Queens. Henry was supposed to pull it, but after an accident with some paint cans, Gordon was given the job. In both the Railway Series and the television series, it was made up of blood and custard express coaches.
The Dining Coach
Edit
The Dining Coach
The Dining Coach is often added to the express so that people can have something to eat on their journey. It has a bar, serving area, pantry, and tables.
Henry once bumped this coach, making its contents fly everywhere.