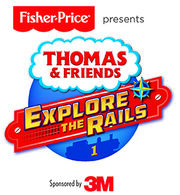 Explore the Rails is an interactive and STEM-based Thomas and Friends themed exhibit touring different US and Canadian children museums. Visitors will have the chance to explore Thomas' cab, learn about Thomas and Friends history, and role-play as railway staff. One of Thomas' television series models, as well as one of Emily's and Diesel's, are on display at the exhibit.
Activities
Climb inside Thomas' cab to explore his inner workings
Remove and replace parts to fix Percy's wobbly wheel, buffers, funnel, and lamp
Fill Percy with coal and water so he can deliver the mail
Suit up as the conductor and sell tickets to ride the train
Load and sort luggage and freight into train cars
Explore the history of Thomas and Friends through books, television series clips including clips from Shining Time Station episodes, and toys
Plan and build navigation routes to favorite destinations on the gigantic Wooden Railway replica of the Island of Sodor
Ad blocker interference detected!
Wikia is a free-to-use site that makes money from advertising. We have a modified experience for viewers using ad blockers

Wikia is not accessible if you've made further modifications. Remove the custom ad blocker rule(s) and the page will load as expected.