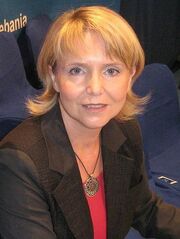 Ewa Serwa (born October 14th, 1956 in Kraków) is a Polish voice actress who provides voices in the Polish dub of Thomas and Friends.
She is most famous for voicing various characters in "Digimon", Lin Beifong from "Avatar: The Legend of Korra", Dr. Deborah Risman from "X-Men: Evolution", Cindy Bear from "Yogi Bear", Babs Bunny from "Tiny Toon Adventures", and Mayor Mare from "My Little Pony: Friendship is Magic".
Voices
Trivia
She is married to Paweł Galia and is the mother of Zuzanna Galia.
Both she and Marjolein Algera, who also voices Clarabel, voice Lin Beifong from "The Legend of Korra" in their respective languages.
She, Nobuaki Kanemitsu, Ángel Amorós, Roberto Mendiola, Lupita Leal, Héctor Moreno, Jorge Teixeira, Yasuhiro Takato, Fabrice Trojani, Gerald Schaale, Tony Marot, José Arenas, Ricardo Silva, Yasunori Masutani, Taisto Oksanen, Taisuke Yamamoto, Ambrogio Colombo, Satoshi Taki, Yehonatan Magon, Masaharu Satō, Nir Ron, Gerardo Reyero, Junko Noda, Houko Kuwashima, Marie-Luise Schramm, Mireya Mendoza, Igor Cruz, Nanaho Katsuragi, Benjamín Rivera, Arturo Mercado Jr., Pedro D'Aguillón Jr., Tom Deininger, Hiroaki Hirata, Óscar Flores, Irwin Daayán, Yoram Yosefsberg, Carlos Hernández, Chie Kōjiro, Agnieszka Kunikowska, Manuel Campuzano, Dor Srugo, Bin Shimada and Talya Barkay have all worked on "Digimon".
Ad blocker interference detected!
Wikia is a free-to-use site that makes money from advertising. We have a modified experience for viewers using ad blockers

Wikia is not accessible if you've made further modifications. Remove the custom ad blocker rule(s) and the page will load as expected.