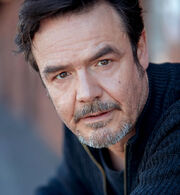 Erik Schäffler (born in 1961 in Schwänisch Gmüd) is a German actor and voice actor who provided a voice in the German audio books of Thomas & Friends and joined the voice cast of the television series in The Great Race.
He is best known for voicing Orochimaru from "Naruto", Commander Shepard from "Mass Effect 2 and 3", Pop Fizz from "Skylanders Academy", Nick Fury from "The Avengers: Earth's Mightiest Heroes", Tony Maycheck from "Batman Beyond" and Travis from "Bob the Builder".
He can speak fluent English and Spanish.
Voices
Trivia
He, Marc Seal, Laura Beaumont, Paul Larson, Helen Farrall, Lee Pressman, Simon Nicholson, Sharon Miller, Sam Barlow, Ross Hastings, Polly Churchill, James Mason, Rob Rackstraw, Rupert Degas, David Menkin, Lucy Montgomery, Gadi Levy, Dan Shatzberg, Holger Potzern, Simona Pahl, Steven Elford, Achim Schülke, Tobias Diakow, Jens Wendland, Marjolein Algera, Ernesto Lezama, Øyvind Borgemoen Lyse, Fabian Harloff, Dave Ingham, José Gilberto Vilchis, Nigel Chilvers, Lenora Hume, Miranda Larson, Stan Limburg, Lutz Harder, Francisco Colmenero, Steven Kynman, Knud Riepen, Eberhard Haar, Robert Kotulla, Ricardo Silva, Louise Kramskoy, Douglas Welbat, Carlos Enrique Bonilla, Katja Brügger, Christian Rudolf, Jürgen Holdorf, Holger Mahlich, Robert Missler and TUGS voice actor Ian James Corlett have all worked on "Bob the Builder".
He, Henning Nöhren, Lennardt Krüger, Christian Stark, Tobias Schmidt, Christian Rudolf, Fabian Harloff, Robert Kotulla, Konstantin Graudus, Merete Brettschneider, Tim Kreuer, Oliver Böttcher, Robert Missler, Patrick Bach, Jürgen Holdorf, Jan-David Rönfeldt, Joshy Peters, Sascha Draeger, Michael Bideller, Joey Cordevin, Christos Topoulos, Volker Hanisch, Nils Rieke, Peter Weis, Rainer Schmitt, Jens Wendland, Martin May, Bernd Stephan, Robin Brosch, Eberhard Haar, Angela Quast, Kai-Henrik Möller, Achim Schülke, Sonja Stein, Marion von Stengel, Jesse Grimm, Henry König, Lutz Herkenrath, Dagmar Dreke, Knud Riepen, Gerhart Hinze and Achim Buch had roles in "Naruto".
He, Albrecht Ganskopf, Konstantin Graudus, Knud Riepen, Tobias Diakow, Martin May, Achim Buch, Henning Nöhren, Tim Grobe, Benjamin Morik, Judy Winter, Henry König, Charlotte Hedwig, Margret Homeyer, Jürgen Uter, Douglas Welbat, Lutz Herkenrath, Michael Weckler, Rainer Schmitt, Robin Brosch, Achim Schülke, Marek Erhardt, Holger Mahlich, Werner Cartano, Sky du Mont, Klaus Sonnenschein, Volker Bogdan, Jörg Gillner, Manfred Steffen, Christian Brückner, Burkhard Schmeer, Christian Rudolf, Frank Schröder, Oliver Warsitz, Peter Weis, Marie-Luise Schramm, Wilfried Herbst, Fabian Harloff, Oliver Böttcher, Robert Kotulla, Helmut Krauss, Christian Stark, Lutz Harder, Anne Moll, Marion von Stengel, Renate Pichler, Matthias Klimsa and Eckart Dux have all worked on "Tatort".
External links